During a CMS Migration, Will My Content Automatically Migrate?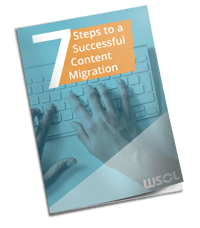 The answer is not as easy as you may think. Designing, building, and launching a new website can be a massive, complex project involving a large number of people, a variety of interconnected systems, and what can seem like mountains of code. Yet one area that's often overlooked is how the content from the old website is going to be transferred to the new website.
In our free eBook, 7 Steps to a Successful Content Migration, you'll learn:
Why content migration can make or break a CMS platform migration project

How to audit your content to save you time and money

What to test during a content migration

Common content migration challenges and how to avoid them
Download our free eBook today to get started on a successful content migration!