INBOUND is about learning and fun. So why not make a game of it?
Download our free INBOUND 2016 Bingo card and fill it out throughout INBOUND.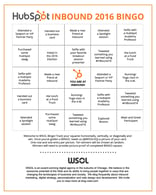 Once you've got a bingo, tweet a picture to us (@WSOLHQ) by November 11 at 6 p.m. (ET)
Ten winners will be chosen at random and will each receive a special prize. Winners must be able to provide picture proof of each square to win.